The Chybisan Royal Guard – History
May 31, 2016
Chybisa has one standing professional military force — the Royal Guard. Their primary responsibility is the protection of the royal household but they also regularly patrol the Genin Trail to ensure that trade, the economic lifeblood of Chybisa, continues to flow. To many, they are the "Stalwart Boars", dutiful and noble. But to others who are less respectful, they are brutish "unctuous pigs".
This article is the first in a series which details the history and traditions of the Chybisan Royal Guard in the GREEN & PLEASANT LAND campaign. There is some minor deviation from canon in that auxiliary forces have been included in the force composition. Further articles will detail the traditions and the force composition of the Royal Guard.
by Konnel Damiano
HârnForum Software Update
May 31, 2015
[UPDATE] The forum software has been successfully updated with (as far as I can tell) no lost data, but there are some visual differences. You'll have to get used to the user data being on the right instead of the left; why that was considered necessary I don't know, but it's not something I can change. At least the site looks mostly similar to how it looked just yesterday. The important thing is that it's the latest software, is more secure, and I'll be sure to keep it more up-to-date than I did over the last couple of years. 🙂
There are also some features not available as yet, like Tapatalk. I dunno how many of you use that feature, but it appears to have some issues with the new version. From my research I can tell the developers of Tapatalk are working very hard to find solutions, so I hope to have this module installed soon.
In the meantime, if you have any problems, please let me know. The contact email is a Gmail address that starts with HARNFORUM in front of the "at" symbol. I'm sure you can figure it out. 🙂
Hârn Settlement Generator
April 3, 2015
The "Harn Settlement Generator" is a Java-based application that allows you to generate settlements based on the Columbia Games Inc. product HârnManor and the free HârnTown article. You can generate one of three types of settlements (a MANOR, a KEEP, or a CASTLE) by entering the information, or randomly by selecting the type you want to create. Check out the README file for more info. Don't forget the free HârnSettlement and IviniaThran for some additional settlement generation options.
by Gary Morris
'Poetic' Maps of Emélrenè
October 30, 2014
We are pleased to be able to provide several versions of a 'poetic' map of Emélrenè and the surrounding regions, as drawn by the loremaster (rowánti) Fástred of Beréma. This free expansion complements the Kingdom of Emélrenè and Emélrenè Regional Map products.
Includes three versions of the map:
a single-layer PDF map with certain information not displayed, principally the names of 'special' and minor locations.
a multi-layer PDF map with all information available via PDF layers, including a grid overlay.
a single-layer map entirely in Lakíse and Eméla, the script and language of Emélrenè…
Download here: Poetic Map
We hope that Gamemasters and players both find this a useful tool in playing in Emélrenè.
Atlas Keléstia – Néoma
September 24, 2014
Fire in the Sky, Metal in the Earth
Keléstia Productions are pleased to announce the publication of Atlas Keléstia #46.
This issue describes map square D1 (TRZN-D1, Néoma) on the Emélrenè map. This region lies deep in the Jerinálian Mountains and within the eastern Jerinála March of Emélrenè. While most of the Jerinála March is the domain of the Émhlè (Free Eméla), this region includes the settled hundred of Mârnadyn and the Barony of Néoma, seat of the Duke of Jerinál, Anávras al Edhélen. This settled area was established c. TR100 during the 'Time of Fire' when Néoma Castle was constructed as part of the efforts to combat the depradations of fire drakes across the region.
Today, the region is transfixed with fear that fire drakes may be returning once again; several have been sighted and a number of sheep and rangers are missing.The fire drakes are only one of a number of tensions and concerns in the Émhlè ranges around Néoma. The leaders of two ranges — Belgârys and Nalamérn — have in recent years granted mining rights to the Miners' Guild in exchange for significant payments; this has led to major rifts between Émhlè supporting and opposing this development. Finally, as elsehwere in Emélrenè, worrying activity in ethereal zones is growing.
To learn more about Atlas Keléstia TRZN-D1 and to make a purchase, go to:
http://www.kelestia.com/atlas/trzn-d1
To learn more about Atlas Keléstia and to view a map of the published issues, see http://www.kelestia.com/atlas.
A list of issues in order of publication date is available at http://www.kelestia.com/atlas/list.
Kingdom of Emélrenè
July 10, 2014
The land between the Es…
Keléstia Productions are extremely proud to announce that after many years of work, Kingdom of Emélrenè is now available. This module has had input from many different people over the years, including Matt Roegner, Ken Snellings, Robert Schmunk, and many other members of the HârnMakers' Guild and the staff of Keléstia Productions. Of course, the original inspiration for this module lies in the work of N. Robin Crossby.
The module is perhaps the most comprehensive and detailed description of any realm of Venârivè or HârnWorld yet produced. It covers matters as broad as Emélrenè's unique and perilous ethereal environment, its long and complex history, its folklore, its unusual religious practices, the key role played by arcane societies, its many branches of government, and the wide-ranging diplomatic reach of the realm. Also included are details of military forces, the economy, and descriptions of around 130 majors towns, castles, keeps and other locations.
The module also includes extensive additional reference information, on religious land holdings; special locations; Émhlè ranges and clans; class, ethnicity and religious affiliation, military statistics, a list of the unique festivals and dates of the Emélan calendar; information on the complex Emélan system of noble honorifics; a list of common Emélan names and a sizeable glossary of useful Emélan words.
We trust you will enjoy this product as much as we have enjoyed producing it.
For more information, and to purchase this module visit: http://www.kelestia.com/emelrene
Anzelôria: Legendary Southwestern Lýthia
April 21, 2014
Keléstia Productions are pleased to announce the publication of Anzelôria: Legendary Southwestern Lýthia the first part of the Lýthian Conspectus Series, which expands upon Venârivè: Northwestern Lýthia.
This module covers the history, cultures, commerce, and religions of Anzelôria, as well as providing details of the all realms and states of the region. It also includes extensive gazetters of key settlements and towns of the sub-continent. Lands as varied as the A'jángwa desert ('Child of Fire'); Lóazen, the strange southern region; the Plains of Chún, Shén and Ramdála; the 'Stony Forest' of the northwest; the mysterious and dangerous 'Whispering Mountains', and the 'Gentle Rain Mountains' are all described.
This product includes the 84 page Anzelôria module, a multi-layered interactive PDF map of Anzelôria (with 27 different layers), and a single-layered version of the map.
To find out more about this publication, and to purchase it, click here.
Astronomy of Kèthîra
February 14, 2014
The Celestial Realm, fully described
Keléstia Productions are pleased to announce the publication of Astronomy of Kèthîra.
This publication includes two major articles covering both the physical astronomy of the Kèthîran system, as well as the social and cultural aspects of Astrology across Kèthîra. The module also includes a Java-based computer program to enable the generation of star maps, charts, and full horoscopes.
To find out more about this publication, and to purchase it, visit www.kelestia.com/astronomy
Upcoming HarnQuest release: City of Shiran
October 25, 2013
DICEY BUSINESS


Columbia Games News
~~~~~~~~~~~~~~~~~~~~~~~~~~~~~~~~~~~~~~~~~~~~~~~~~
~~~~~~~~~~~

~~~~~~~~~~~~
NEW HARNQUEST RELEASE – SHIPPING SOON
City of Shiran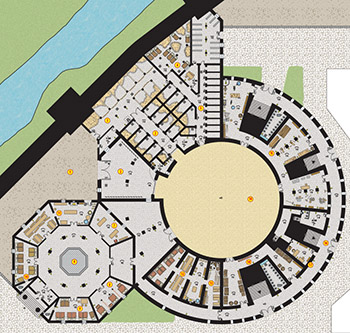 Shiran is Hârn's smallest city. Located on the north bank of the Thard River near Lake Benath, it is the second-largest settlement in the Thardic Republic and capital of Shiran Province. Shiran is one of the Republic's economic and cultural centers. The city has a reputation for corruption and hedonism and is known throughout Hârn as the "City of Sins."
Shiran offers game masters many opportunities as the site of urban intrigue and adventure.
The Shiran article contains an overview of the city's history, economics, religion, government, and military forces. In addition to a full-page color player map, color GM maps are provided for each district of the city and more than 125 locations are described. Color floor plans and detailed descriptions are included for the Pamesani Arena, site of gladiatorial games and depraved spectacles; the Crimson Palace, Hârn's most famous house of courtesans; and the Temple of Halea, the Empress of Opulence and Queen of Pleasures.
Some material in this article was originally published in Cities of Hârn (1983) and Son of Cities (1987). The article has been greatly expanded and organized to allow for future expansion of new plans and sites within the city.
---

RECENT HARN RELEASES. AVAILABLE NOW.
The Order of Hyvrik is the main arm of the Laranian Church in western Hârn and stands as a spiritual bulwark against the churches of Agrik and Morgath that seek to dominate the region. Most of the order's clerics and houses are in the Kingdom of Kanday. Although the order maintains temples in the Thardic Republic and has a small, covert presence in the Kingdom of Rethem, many view it nonetheless as an instrument of Kandian royal policy. The grand temple in Aleath is the headquarters of the order and the residence of its Turintesa (grandmaster), Toril Elcher.
---
The Laranian Order of the Checkered Shield is sponsored by the clerical Order of Hyvrik and was founded in 622 by King Andasin I of Kanday to guard the northern border of his realm. The order is based at Menekod castle, which it took from the Agrikan Order of the Copper Hook during Ezar's War. Chivalry, honor, and duty are characteristics of the Order of the Checkered Shield, a fighting order dedicated to the goddess Larani, the Shieldmaiden of the Worthy Cause. The knights and men-at-arms of the Checkered Shield are renowned for their individual and collective military prowess and for upholding the ideals of Laranianism.
HârnMaster Article
---
Dyrisa Laranian Temple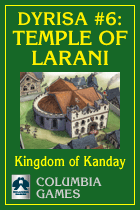 Dyrisa's Laranian temple is dedicated to the goddess' holy silver sword and is commonly referred to as the Temple of Avarkiel. It is run by the Order of Hyvrik and stands in the center of Dyrisa in honor of Larani's role in the victory of King Andasin I over the town's Morgathian overlord in 620. Nobles and commoners come from leagues away for Soratir services.
---
Chyrefal Castle
Chyrefal is the principal settlement of the island of Ikom and shire moot of Melderyn's Ikoshire. The majestic castle town is home to Hârn's premier Odivshe chantry, an ancient megalith circle, and a gigantic haunted burial tumulus. The sheltered harbor is home to a large fishing fleet and the annual spring seafarers' fair attracts boats from all over eastern Hârn. Chyrefal is held for the king by Sheriff Balsen Torele. Communication with Cherafir can be difficult and the crown leaves Ikoshire very much on its own. The sheriff holds moots irregularly.
The Chryefal Castle article describes the settlement's history, government, religion, and economics, and provides details for some of its craftsmen and other locations. Included are GM and player local maps as well as interior plans of the castle and the nearby chantry.
This is a Hârn Classics release. Portions of this article were originally published in 1992 as part of Hârnlore 11. The article has been upgraded new color artwork, redrawn maps, and expanded descriptions of the town locations. In addition, this article includes floor plans and descriptions of the castle citadel that were never before available.

Join the HârnQuest subscription and save money on new releases.
---
~~~~~~~~~~~~~~~~~~~~~~~~~~~~~~~~~~~~~~~~~~~~~~~~~~~~~~~~~~~~~
REMINDERS
~~~~~~~~~~~~~~~~~~~~~~~~~~~~~~~~~~~~~~~~~~~~~~~~~~~~~~~~~~~~~

JOIN FRIENDS OF  HARN ON FACEBOOK

https://www.facebook.com/groups/7250630358/
Please also visit the Columbia Games page on Facebook at:
https://www.facebook.com/columbiagames
~~~~~~~~~~~~~~~~~~~~~~~~~~~~~~~~~~~~~~~~~~~~~~~~~~~~~~~~~~~~~

---
---
PDF HARN MODULES
You can now buy PDF versions of many Hârn products.
Visit:
Or:


Or:
http://paizo.com/store/byCompany/c/columbiaGames
Search for harn or Columbia Games.
 
~~~~~~~~~~~~~~~~~~~~~~~~~~~~~~~~~~~~~~~~~~~~~~~~~~~~~~~~~~~~~~
SPREADING THE NEWS
~~~~~~~~~~~~~~~~~~~~~~~~~~~~~~~~~~~~~~~~~~~~~~~~~~~~~~~~~~~~~~
Please share Dicey Business by forwarding this issue to a friend or posting it in forums and newsgroups everywhere. Reviewers/Webmasters please post our news to your websites.
We have a link banner available below:

http://www.columbiagames.com/linkbanner/linkbanner.gif
~~~~~~~~~~~~~~~~~~~~~~~~~~~~~~~~~~~~~~~~~~~~~~~~~~~~~~~~~~~~~~
COMMENTS
~~~~~~~~~~~~~~~~~~~~~~~~~~~~~~~~~~~~~~~~~~~~~~~~~~~~~~~~~~~~~~
Comments/Questions/Suggestions – e-mail: orders@columbiagames.com
~~~~~~~~~~~~~~~~~~~~~~~~~~~~~~~~~~~~~~~~~~~~~~~~~~~~~~~~~~~~~~
SUBMISSIONS
~~~~~~~~~~~~~~~~~~~~~~~~~~~~~~~~~~~~~~~~~~~~~~~~~~~~~~~~~~~~~~

We are always looking for interesting submissions for our website. Please e-mail:
orders@columbiagames.com

~~~~~~~~~~~~~~~~~~~~~~~~~~~~~~~~~~~~~~~~~~~~~~~~~~~~~~~~~~~~~
ABOUT THIS NEWSLETTER
~~~~~~~~~~~~~~~~~~~~~~~~~~~~~~~~~~~~~~~~~~~~~~~~~~~~~~~~~~~~~~
DICEY BUSINESS is sent to all gamers on our mailing list, highlighting Columbia Games news and features recently added to www.columbiagames.com. There are two editions of Dicey Business: Hârnworld and Boardgames.
To unsubscribe, change your subscription, or request plain text mail instead of html, please email: orders@columbiagames.com. with your first and last name and the message REMOVE.

Happy Gaming
Columbia Games

Hooks: Forest Patrol
September 8, 2012
"Sergeant!" shouted Lord Scina Dariune.
"Yes, m'lord?" replied his dour Sergeant-at-Arms Gareth Hawke.
"Where in the Pit are we?!"
"As far as I can tell, m'lord, we're about four leagues north-east of camp" the tall ex-Thardan legionary replied calmly. However, his attitude didn't assuage Lord Scina one little bit.
"I can't see more than fifty feet in any direction!" He slapped his gloves on his saddle in frustration. "How are we supposed to bring the Taelda barbarians to heel if we cannot even find them?" he demanded.
Gareth sighed, mentally casting a prayer for patience towards Valon, the realm of the goddess Peoni. The young lord needed a serious attitude adjustment if he was to lead troops into battle, and it was Gareth's job to to that without breaking his spirit. So he had been charged by Scina's father, the powerful Earl of Balim, Exchequer Royal of Kaldor and trusted advisor to King Miginath.
He was about to reply when something, that innate sixth sense experienced professional soldiers develop, caused him to pause and look beyond the young lord's left shoulder. After a heartbeat, a crude arrow whizzed from the deep underbrush towards Scina's back.
"Down!" shouted Hawke, dragging at Scina's sholder. He followed this immediately by shouting "Ambush! Dismount and form a skirmish line."
This command was directed at the eight members of the patrol. They struggled to obey but a storm of arrows from all around them interfered with their unit cohesion. A man's scream signaled the first casualty of the engagement. A quick glance told Gareth it was a minor wound but disabling, in the man's calf muscle. Fortunately, the rest of the crude arrows bounced or broke on the soldiers' armour.
The horses began to panic, rolling white eyes. Another arrow storm and they broke, racing away from the biting, stinging arrows that nicked and pierced their hides. A man who had been slower than others in dismounting still had a foot in his stirrup when his horse bolted. He was flipped around, his leg breaking with a sickening crack. His foot still stuck in the stirrup, his screams faded as his horse dragging him off through the bushes.
The remaining soldiers gathered in a tight group, facing all directions with shields raised against another arrow storm, the injured man at their center leaning on his spear and groaning in pain.
A short, barking sound came from outside their perimeter and furry bodies hurled themselves at the Kaldoran patrol.
"Filthy gargun!" said Lord Scina.
And battle was joined.
#
There are many kinds of wilderness surrounding the settled areas of all the kingdoms of Harn, but thick, primordial temperate forest is surely the most difficult to secure effectively. The sight lines for your archers is very restricted and the uncertain footing, with all those roots, holes hidden by leaf mulch, and fallen branches, is very dangerous terrain for a medieval soldier. Barbarian tribesmen and gargun who live in the forest would be able to move with a lot less trouble than a soldier used to open fields and meadows.
If you were running a campaign that included the need to patrol a heavily wooded area, wha kinds of things might you need to take into account, especially when it came to the effectiveness of standoff weapons like arrows? You'll need to determine how thick the forest actually is, how far each side can see, how experienced the two commanders are, especially how experienced they are fighting in this terrain. There are other factors too; geology might tell you how many rock piles, hillocks, cave systems, and other defensible areas there are available. Conversely, how many streams and rivulets, sinkholes, ravines and cliffs might interfere with movement are additional considerations. How close the two sides can get to one another without alerting the others, and whether there are suitable ambush sites…these can all be considered by a GM setting up a scenario similar to the one above.
Other terrain will have other elements, of course. Bogs and standing water in heathland, sand dunes and wind near the shoreline, and buildings and people in settled areas, all can create opportunities or obstacles for the opposing forces. In essence, the GM needs to consider what elements of the environment help or hinder each of the sides in a conflict, large or small. A little careful consideration can mean your battles have a sense of realism and depth, and they'll probably flow a little better as well.